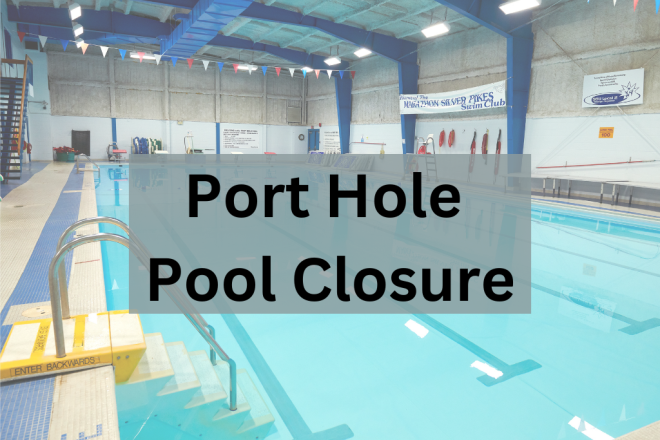 The Corporation of the Town of Marathon
Port Hole Pool Closure
Marathon, ON – Following a Special Meeting of Council and a comprehensive structural engineering and architectural review and an administrative recommendation, Town Council has approved the permanent closure of Marathon's Port Hole Pool for health and safety reasons.
"This is a very unfortunate situation for our community and our residents. This is a well-used facility with so many benefits. But the facility is showing its age and is due for replacement. We cannot open and operate a facility that is deemed to be unsafe." States Mayor Rick Dumas.
The pool structure was inspected on July 10th by a Professional Structural Engineer and a follow-up report noted there has been 'significant section loss in the wall girt system which has compromised the integrity of this load bearing system. The end wall steel frame bases show more than fifty percent (50%) of the section area has corroded away compromising the integrity of this load bearing system.'
The engineering report recommendations were further reviewed in detail by a Professional Architect who noted 'the Port Hole Pool is no longer suitable for public occupancy. In the interest of public safety, we strongly advocate that the entire pool suite be closed until the structural concerns raised in the engineer's letter are fully addressed.'
The architectural report does note that no other suite (arena, theatre, lobby) is subject to the pool recommendations and may remain open for public occupancy without concern.
"Council has already directed administration to look at additional programming and recreation opportunities to help offset the closure of the pool. Council expects a report back in the coming weeks which will be shared with the public in due course." Further states Mayor Dumas.

The Town of Marathon will not be responding individually to complaints received regarding the closure of the Port Hole Pool. The appropriate public documents have been posted and the Special Meeting of Council held on August 15 was open to the public in-person and online, as well as recorded and posted. Thank you.

Watch the Recorded Council Meeting

Read the CAO Report